Irmas Everyday Tote Bag
Regular price
$284.00 USD
Regular price
Sale price
$284.00 USD
Unit price
per
Sale
Sold out
Facilitate some of everyday challenges and wear all your clothes, your makeup, your laptop and much more with style. Irmas Everyday Tote Bag is a trendy and functional bag made of durable materials. The bag also comes with a practical and detachable bag insert and a mini bag for mobile and credit cards.
Description

A so-called totebag, the ultimate bag for all occasions. On the way to work, training, when you shop or maybe are traveling. The bag is functional and spacious enough to follow you on all your adventures.
Materials

The bag is partly made of paper leather, made out of cellulose fiber used in paper. The material is very durable and water resistant. In addition, we use something called Apple Leather, which is a residual product from the apple industry.
Care instructions

The material is water and tear resistant, so it can be washed. If you take care of your bag, it will age with grace and become more beautiful with time, just like you.

If necessary, wash in warm water with a mild soap or detergent.

Or use a neutral cloth dampened with warm water and mild soap to dry clean.

Let it dry naturally.

Hand wash only. Do not machine wash or dry clean.
Size

Main compartment W 42 x H 37 x D 20 cm
Share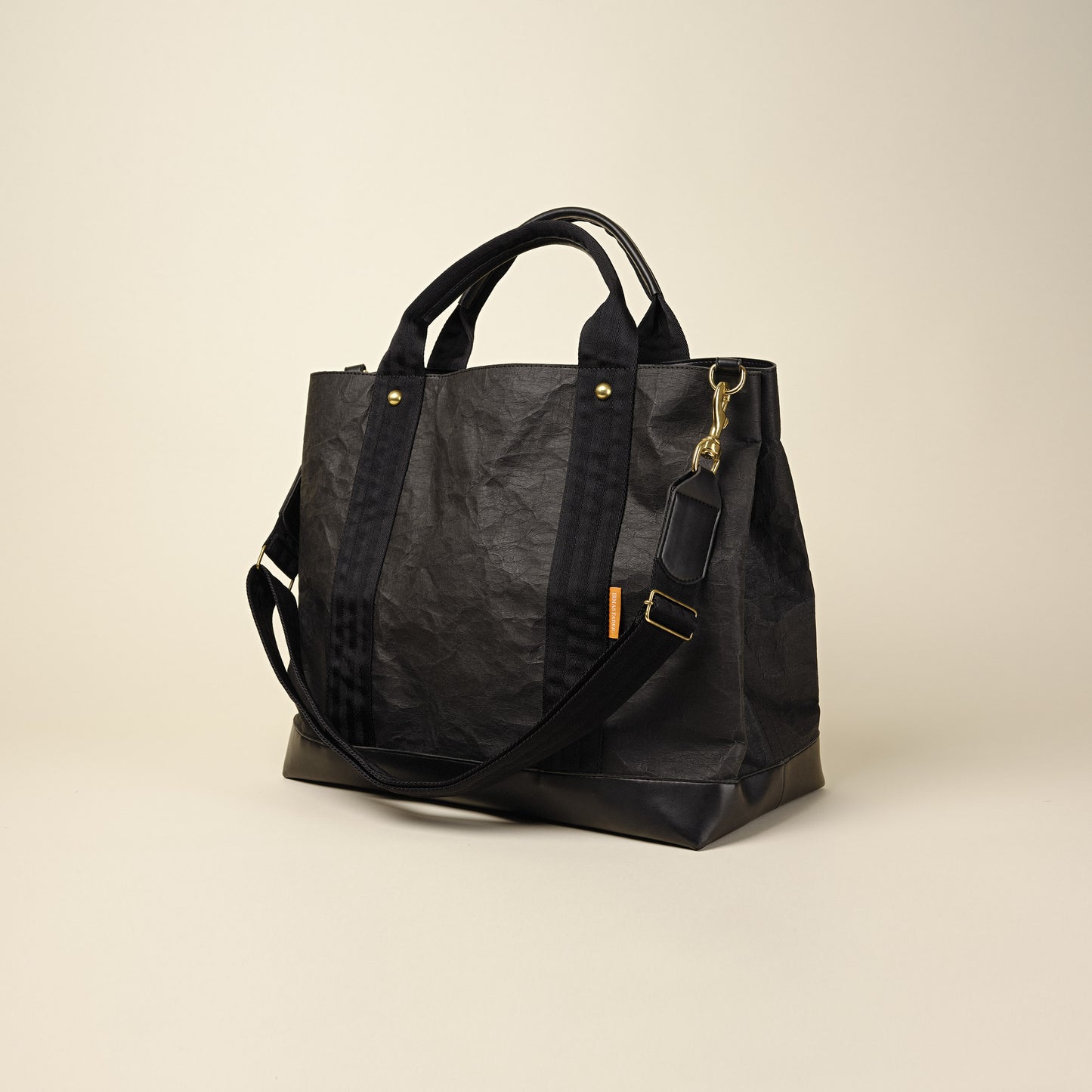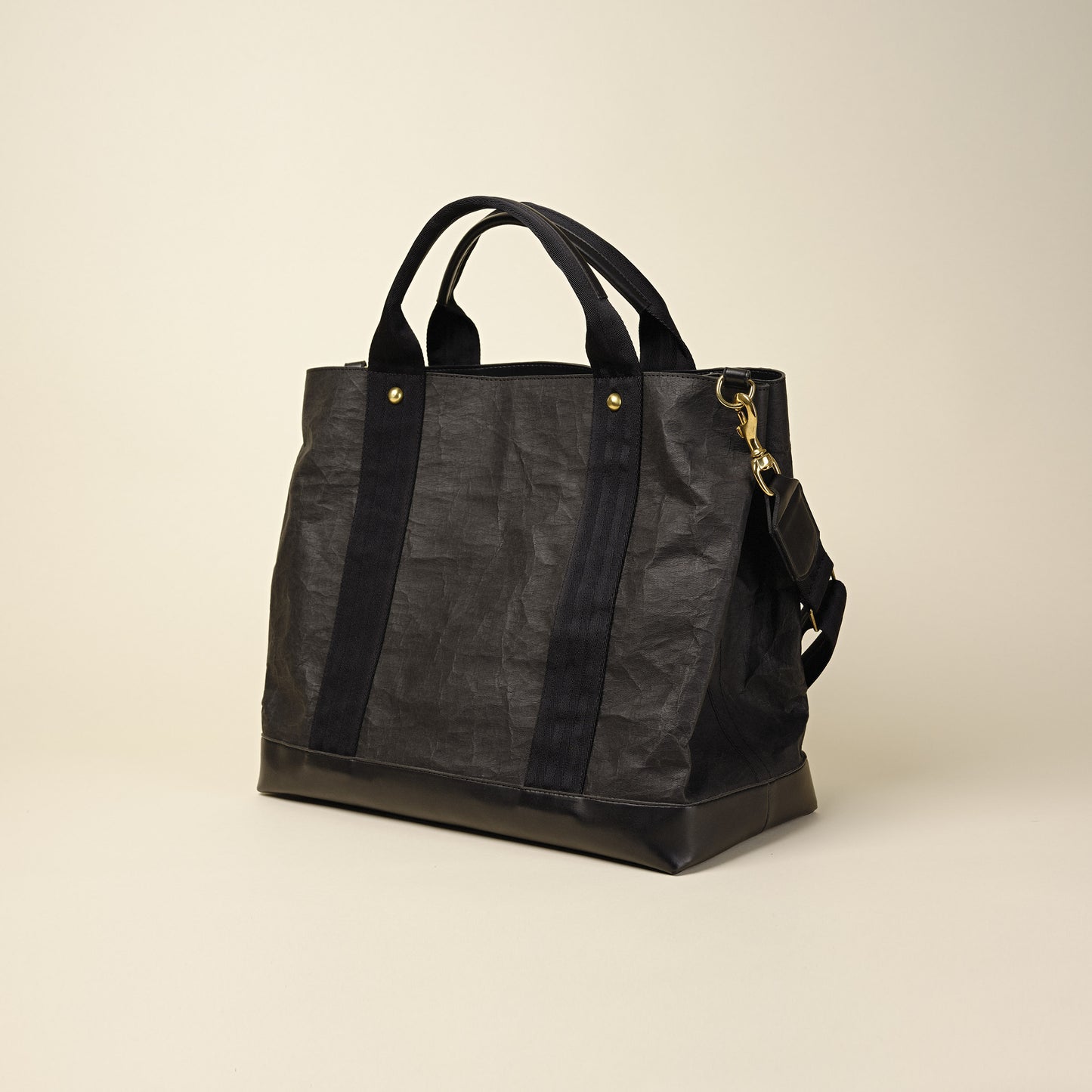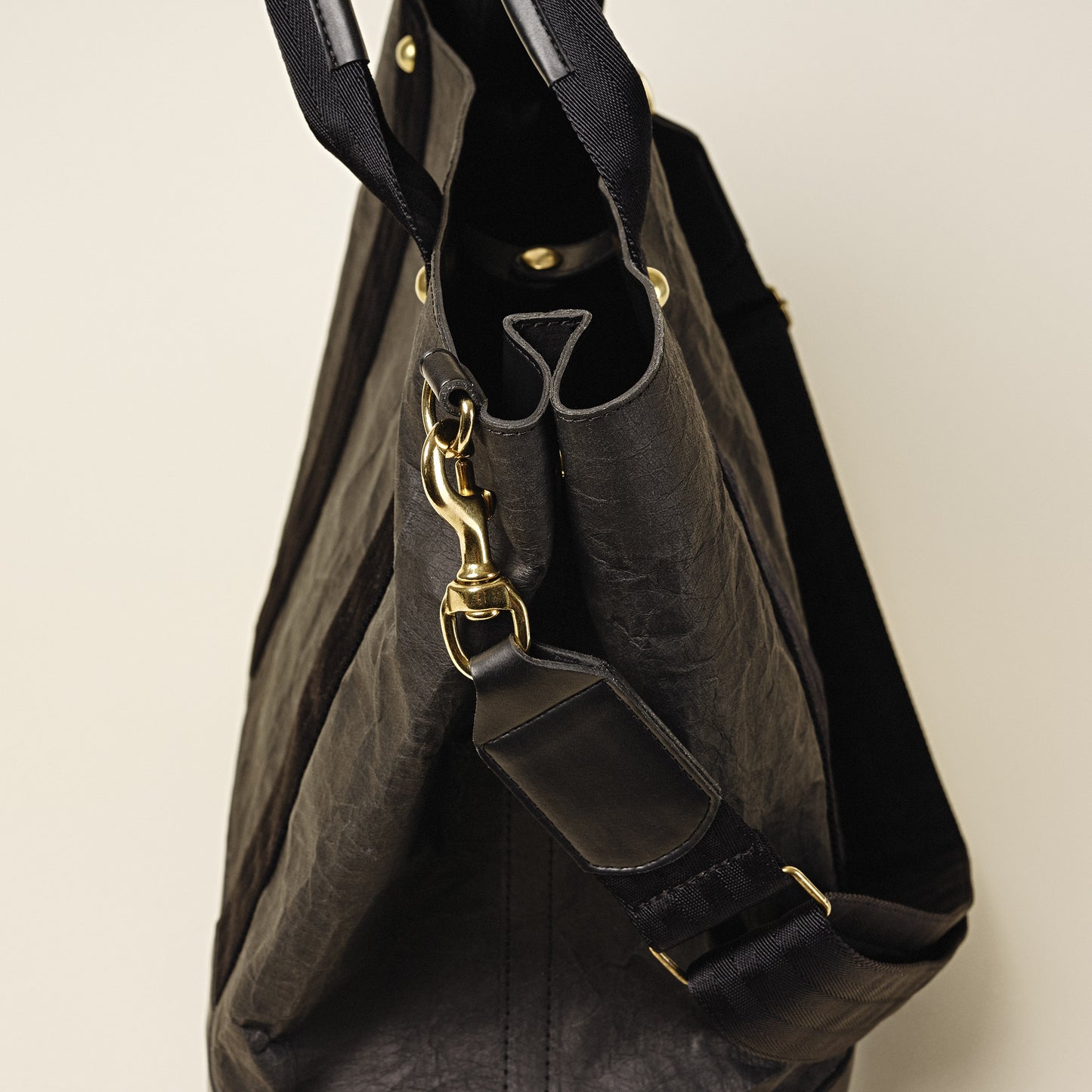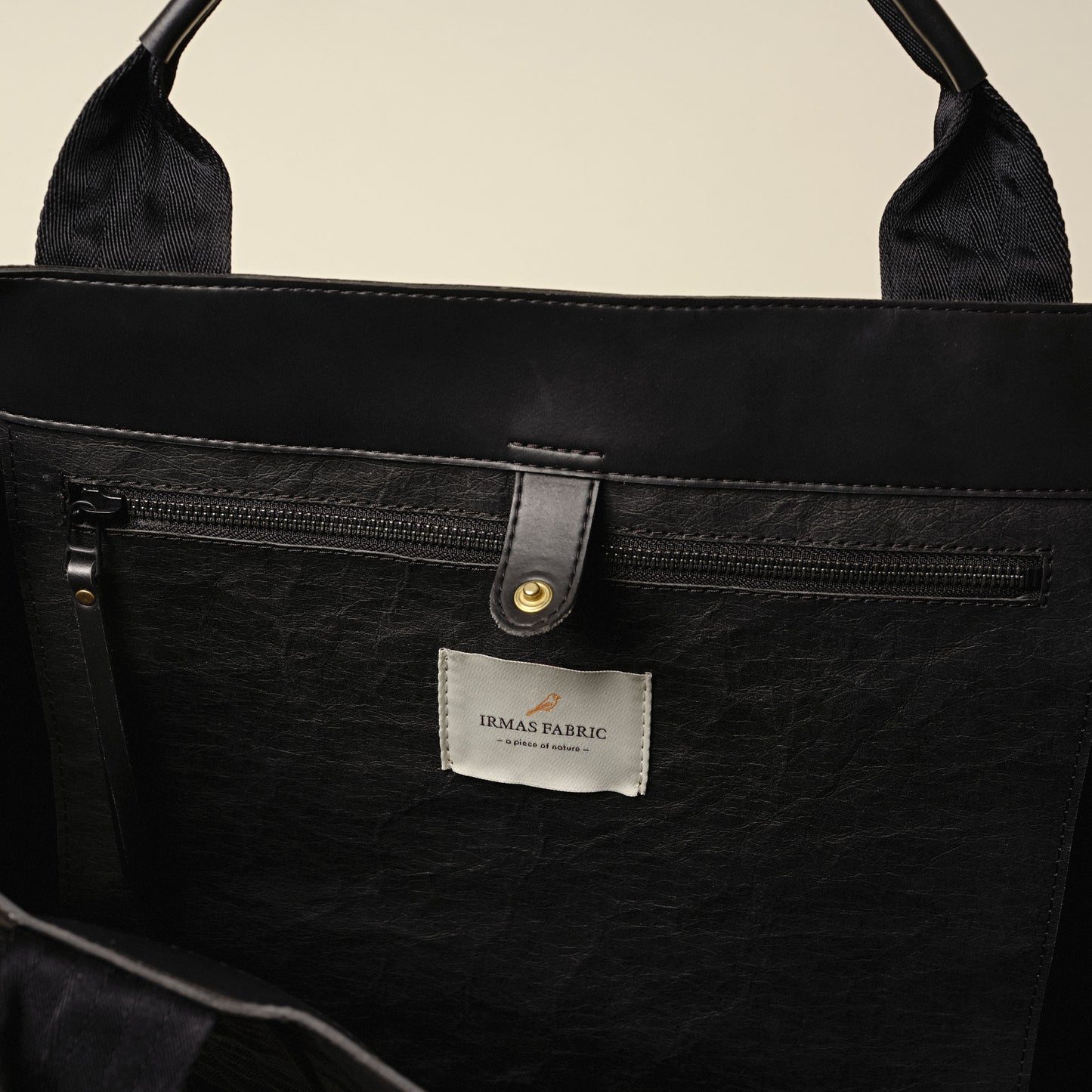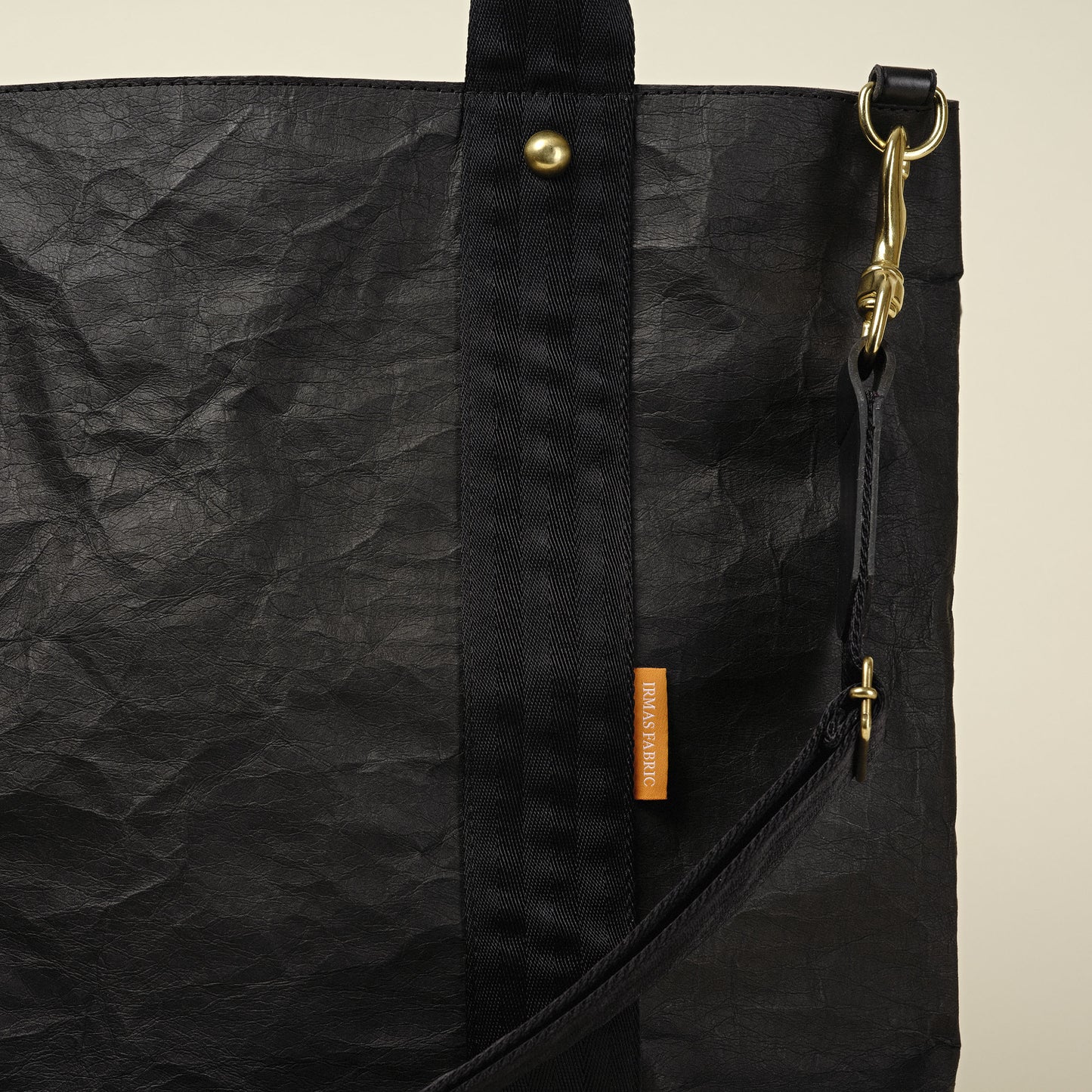 Ta hand om din väska!
Vår väska är framtagen i två olika typer av biologiskt veganläder: pappersläder och äppleläder. Väskan behöver liksom en vanlig läderväska lite extra kärlek för att hålla sig vacker länge.
Hur tar man hand om sin väska?
Vid behov tvätta/torka rent med en fuktad trasa i varmt vatten med en mild tvål eller rengöringsmedel. Låt den torka naturligt. Maskintvätta eller kemtvätta den inte.
Smörj med fördel in väskan med läderbalsam, vilket är viktigt för att den skall hålla sig snygg länge. Den får en djupare svart färg och blir dessutom mer tålig för slitage. Använd ett läderbalsam med naturliga råvaror, det kan du dessutom använda till dina skor, väskor, hästsadlar mm, allt blir som nytt igen!
Tips på ett bra läderbalsam hittar du här.
Det är självklart viktigt att du är rädd om din väska och undviker att den ligger vikt så det skapas skarpa veck som är mer känsliga för slitage.
Värt att tänka på när man vistas ute soliga dagar, var försiktig med solen som kan bleka väskans färg.
Vad gör man när man inte använder sin väska?
Förvara den väl, när en väska tappar formen är det svårt för den att återfå dess ursprungliga form. Vårt bästa tips är att fylla den med papper (eller annat material som gör att den inte säckar ihop). Det gör att väskan håller formen bra mycket bättre än utan. Har du en tygpåse (alternativt ett stort örngott) att stoppa den i är det bonus.

Sustainable

Vegan

Easy to wash

Swedish design
Is your bag usually messy inside?
Irma's Everyday Tote Bag comes with a practical inserted bag with several compartments to keep your things organized. It can easily be lifted over to another bag. This includes a mini bag for your phone and credit card, which can easily be removed.